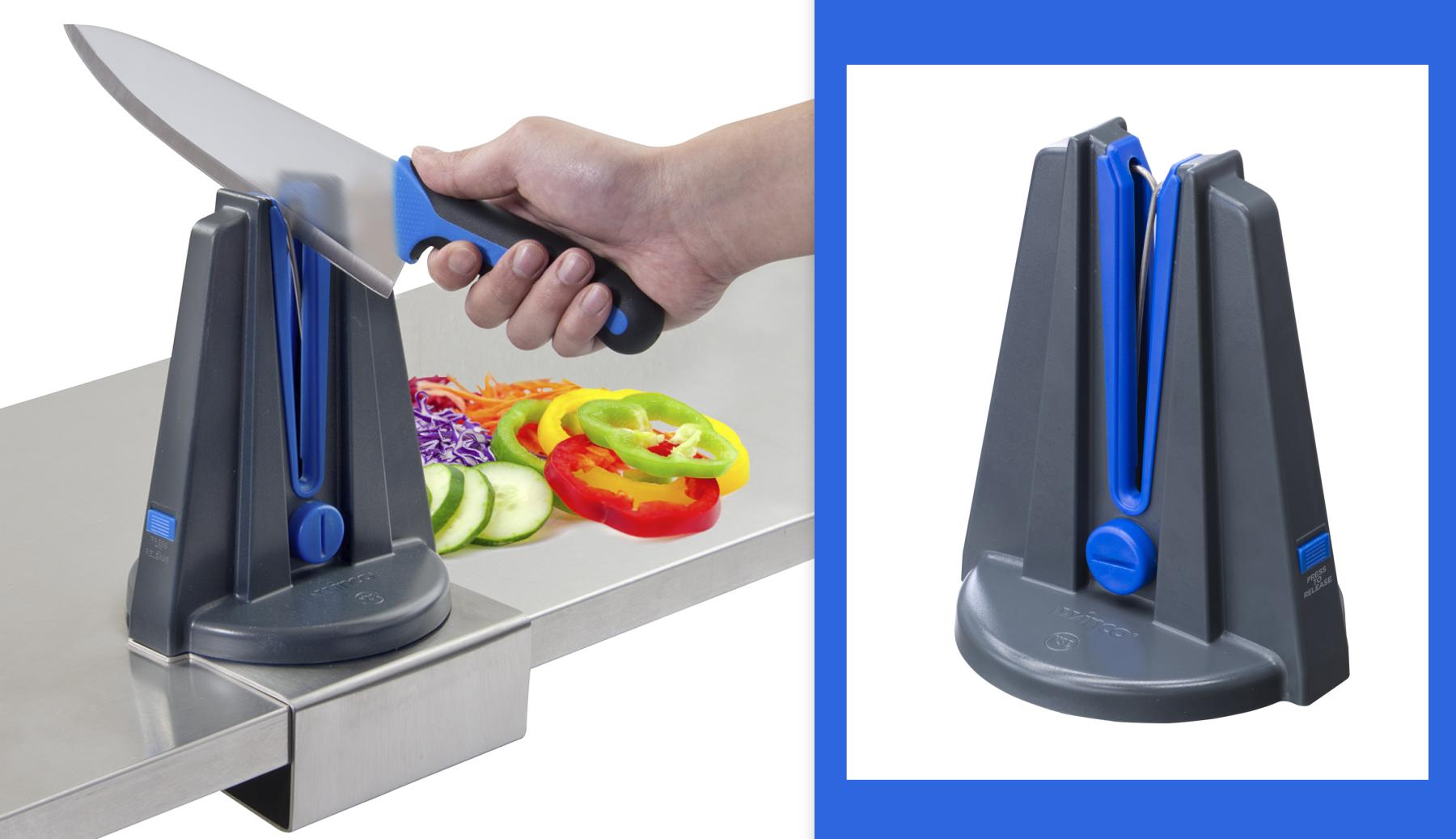 Find your edge and keep your kitchen knives razor-sharp with Winco's Blade Station™ Hands-Free Knife Sharpener.
Foodservice professionals know that a dull knife is a dangerous knife. Dull knives require more force, which increases the risk of slipping and catching a finger instead of slicing cleanly. Winco's Blade Station™, model KSP-6, provides a quick, convenient way to keep your knives sharp and increase safety for your kitchen staff. This easy-to-clean, dishwasher-safe sharpener is extremely easy to use with minimal training. Four swipes of the knife through Winco's diamond-coated, double-sided Blade Station™ and operators have an evenly sharpened knife that is as good as new.
The secure design of Winco's Blade Station™ provides additional safety for employees and reduced liability for managers. The base can be easily attached to prep tables for safe, hands-free use and easily transported to any worktop. This patent-pending design takes the guesswork and safety concerns out of knife sharpening.
While knife sharpening may sound like something you should leave to the pros, operators can quickly and safely sharpen knives using the Winco Blade Station™.
Busy kitchens need speed and safety, and a good knife sharpener helps keep everyone's favorite knife performing at its best. Those crisp, clean, precise cuts we all love from a brand-new knife will only last if the blade is maintained correctly. The NSF-certified Winco Blade Station™ delivers results. Thanks to its ease of operation and safety features, the hands-free Blade Station™ is perfect for novice knife sharpeners and experienced kitchen pros.
Keep your edge sharp! Winco has the solutions and opportunities to help today's foodservice professionals bring their culinary excellence to the table.