Turbo Air has thought of it all when it comes to providing reliable refrigeration to foodservice professionals. Among several exclusive features, Turbo Air brings two significant differentiators that provide unique solutions to foodservice operations.
The first Turbo Air differentiator is their SELF-CLEANING CONDENSER.
Let's take a look at a refrigeration maintenance challenge and solution scenario:
· Fact: Dust accumulation in the condenser can cause the failure or breakdown of refrigerators.
· Fact: As condenser dust accumulates, refrigerator performance drops, resulting in higher energy costs, damage to stored products, or even disposal.
· Fact: Improper or inconsistent condenser cleaning voids many refrigeration warranties.
· Fact: Cleaning refrigerator condensers is time-consuming and intrusive to busy operators.
· Fact: Turbo Air's exclusive self-cleaning condenser automatically brushes the condenser daily.
The second Turbo Air differentiator is their HASSLE-FREE WARRANTY.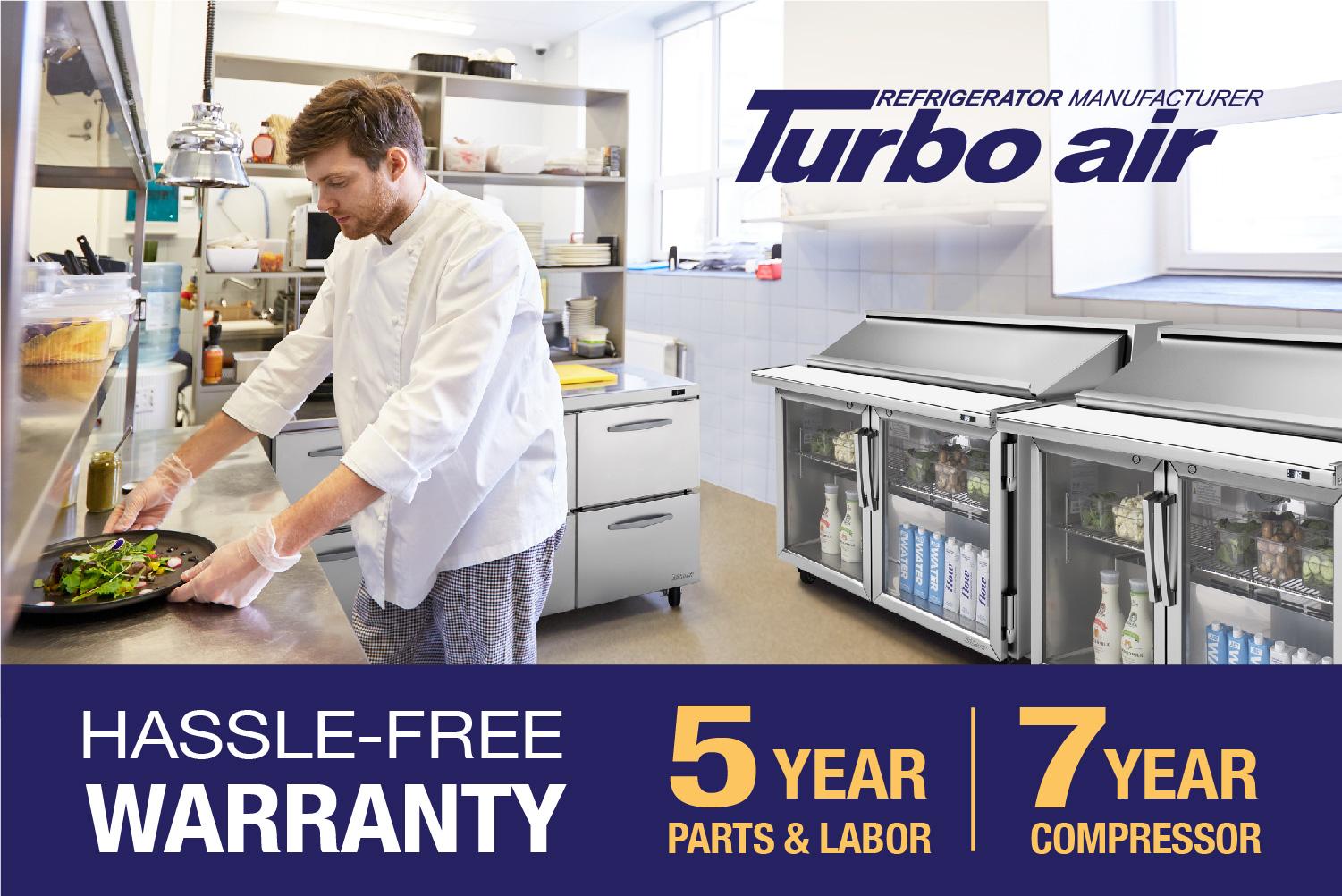 Not only does Turbo Air's warranty speak to the confidence they have in the equipment they build, but it provides operators with tremendous peace of mind. The Turbo Air 5-year parts and labor and 7-year Compressor warranty do not require condenser cleaning service during the five-year warranty period. The warranty applies to the M3, Super Deluxe Series, and Pro Series.
Turbo Air knows the importance of refrigeration maintenance and a solid warranty. Although providing operators with a self-cleaning condenser, a hassle-free 5-year parts and labor, and a 7-year Compressor warranty is a top focus, they bring more. Check into the Turbo Air Super Deluxe Series for solutions to further questions and concerns.
Question: Is consistent temperature control for product freshness and safety a challenge?
Solution: The Turbo Air Super Deluxe Series provides digital temperature control, a monitor system, and technology that offers precise, food-safe, consistent temperatures throughout the cabinet.
Question: Is there a concern that your PVC-coated wire shelves may peel and rust, compromising food safety?
Solution: The Turbo Air Super Deluxe Series uniquely provides sturdy, clean, stainless-steel shelving, eliminating the risks of PVC-coated wire shelves.
Question: Is environmental responsibility a concern for your operation?
Solution: With innovative, eco-friendly technology, the Turbo Air Super Deluxe Series is built with Hydrocarbon refrigerants (R-600a) and (R-290). Hydrocarbon refrigerants do not deplete the ozone layer and contribute very little to global warming (ODP-0, GWP-3).
If you're looking for reliable, high-quality refrigeration equipment that takes care of maintenance and offers a hassle-free warranty for additional peace of mind, you should take a look at Turbo Air Refrigeration.