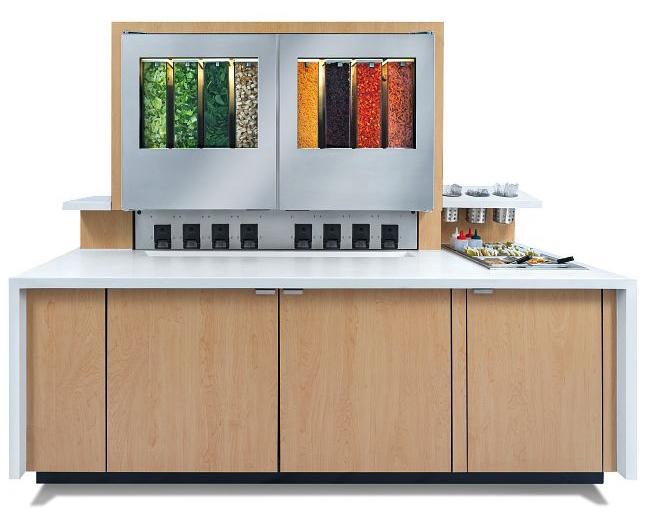 The Vollrath SerVue™ Touchless Refrigerated Slide-In is being called the future of foodservice bars. SerVue™ brings all the benefits of a self-serve food bar without the pain points. Customers are drawn to the sleek design and view of the fresh ingredients and are equally impressed with the innovative technology.
For diners, the SerVue™ Touchless Refrigerated food bar brings a visually appealing and entertaining self-serve experience that allows them to fill their plate with fresh, chilled ingredients without having to navigate around a breath guard, handle serving utensils, and reach across food wells to get the ingredients they desire. The enhanced visibility of the food options and the fresh food protected from germs, contaminants, and cross-contamination delights diners and operators alike.
How does it work?
The SerVue™ touchless refrigerated slide-in uses sensors to dispense the desired amount of food from self-contained canisters automatically. The high-capacity canisters in a reliable, self-contained refrigerated chamber maintain safe temperatures, even outside service hours, and protect food from airborne contaminants.
Smart sensors at the bottom of each canister detect the presence of a bowl or plate, and integrated paddle wheels facilitate the gentle dispensing of ingredients accordingly. There is a concealed touchscreen for technicians and operators only, allowing operators to control the functionality of the Vollrath SerVue™ and set the precise amount of each ingredient per serving for portion and food cost control.
Why is Vollrath's SerVue™ being called the Future of Food Bars?
Fitting within the footprint of a 4-well drop-in, the SerVue features double glass doors that house eight transparent ingredient canisters. The refrigerated unit maintains temperature better than a typical drop-in or serving line, guarantees optimal product freshness, and ingredients are self-contained and protected from germs and other contaminants. The SerVue™ is also equipped with a condensation evaporator to eliminate excess moisture.
The SerVue™ vertically displayed food bar with strategic lighting captures diners' attention and gives them a clear view of their fresh choices. The increased visibility also allows operators to have the ability to monitor ingredients at a glance.
The Vollrath SerVue™ is easy for operators to refill and clean. Did I mention the minimal footprint impact?
SerVue™ is an expansion of Vollrath's fabricator component line and can be sold separately or built into a custom serving system. The total cost of ownership is at the forefront of everything Vollrath designs for operators, which is why this innovative profit-generator comes standard with many long-term cost and labor-saving benefits.
Give your customers a visually appealing and entertaining self-serve experience with SerVue™, the future of food bars.