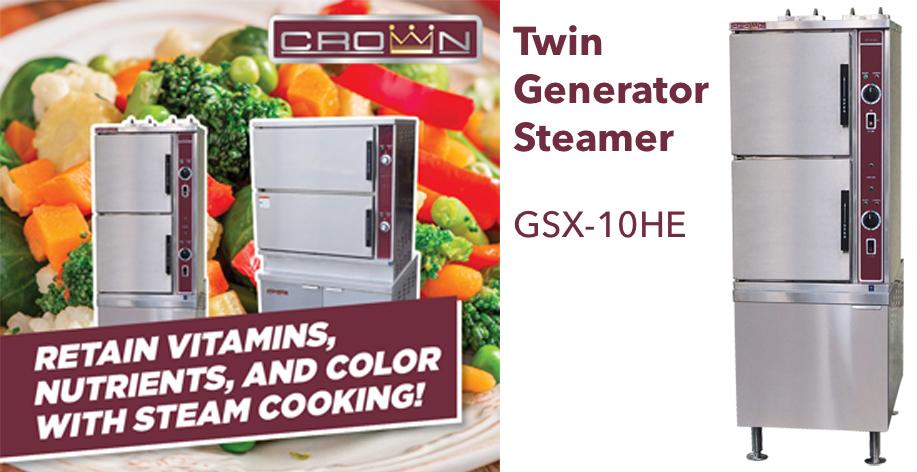 Why is Steam great for schools and universities?
School foodservice professionals provide healthy, nutritious food to large groups of students daily. However, maintaining good flavor with nutrients and vitamins can be a balancing act. That's where steamers come into play. Steamers retain vitamins and flavor and help operators achieve consistent results with every batch.
Crown steamers allow foodservice professionals to achieve their goals with the following advantages.
· No oil
· No overcooking and no burning
· No Cross Flavors
· No damage of Vitamin A and Vitamin B
· No color loss
· No taste loss
Steamers are highly efficient as a heat transfer method and provide consistent results. If you need fast recovery times, a Crown steamer is your answer. The 10 Pan GSX-HE is tops in its class with 190,000 BTU for those quick recovery times you need. With the highest BTU in the industry, the GSX line is the ultimate workhorse in the kitchen. This unit can easily handle high production needs, from high-volume banquets to fast-paced a la carte. In addition, with two generators, you have the benefit of always having a fully operational cavity, even when one is being serviced or not in operation.
In addition, operators love the independent steam generators, the water treatment systems included, 7-10 pan capacities, and coved interior corners for easy cleaning and maintenance.
Click here for more Crown Foodservice Solutions
Why are Skillets/Braising Pans great for schools and universities?
Imagine being able to sauté, scramble and sear in the same appliance that can handle soups and sauces. That's the versatility of a skillet.
Skillets, a.k.a. Braising Pans, are ideal for braising, shallow frying, steaming, roasting, and warming and can be utilized as a griddle or a kettle. The fully polished stainless steel cooking surface with a 3/4" thick plate keeps food from sticking. It helps retain heat longer than other manufacturers cooking surfaces. 3/4" triple-ply construction, with a 3/8" aluminum core, carbon back, and stainless-steel cooking surface, ensures even heat distribution.
In addition, operators love the 304 stainless steel line, power tilt, vent port, and 30 to 40-gallon capacities.
Click here for more Crown Foodservice Solutions
Cook healthier and smarter with Crown!