by Carla Landi
There is more than meets the eye when it comes to commercial kitchen tools. It's the fine details, design, and embedded features in kitchen tools that can significantly contribute to a notable increase in efficiency and a decrease in food waste. That's why Hell's Tools® from Mercer is quoted as being "a quality tool with a proposition value".
Commercial kitchen tools should be versatile, strong, effective, and should keep all the tasks and energy spent by busy foodservice professionals in mind.
Mercer's new silicone products have just the right flex in the handle, not too much and not too little. What does this mean for foodservice operators? All the energy goes into the blade to make contact with the surface. If the handle bends too easy then energy is put into the handle and more concentration is needed to apply the blade fully. This feature is not only greatly appreciated by foodservice professionals working hard and as efficiently as possible all day, but it eliminates a lot of food waste by getting every drop out of the bowl.
These long-lasting kitchen tools are multi-functional in every portion of prep, including high heat applications. They can go from prep to stovetop to final touches, like the icing on a cake. They have thought of everything. They are easy to store, NSF rated, and dishwasher safe.
Let's take a closer look at a couple of kitchen essentials...

Hell's Tools® Silicone Spoon Spatula
The spoon-shaped bowl is perfect for mixing, scraping the sides of the bowl, and ultimately transferring batter and other thick foods to the next step. The stain and odor resistant blades create excellent contact without scratching and they are rated to 500°F. The specially formulated heat-resistant handle is ergonomic for added comfort, reducing fatigue during long periods of prep. They are built to last and keep up with the busiest foodservice professionals.
Need to put it down for a minute?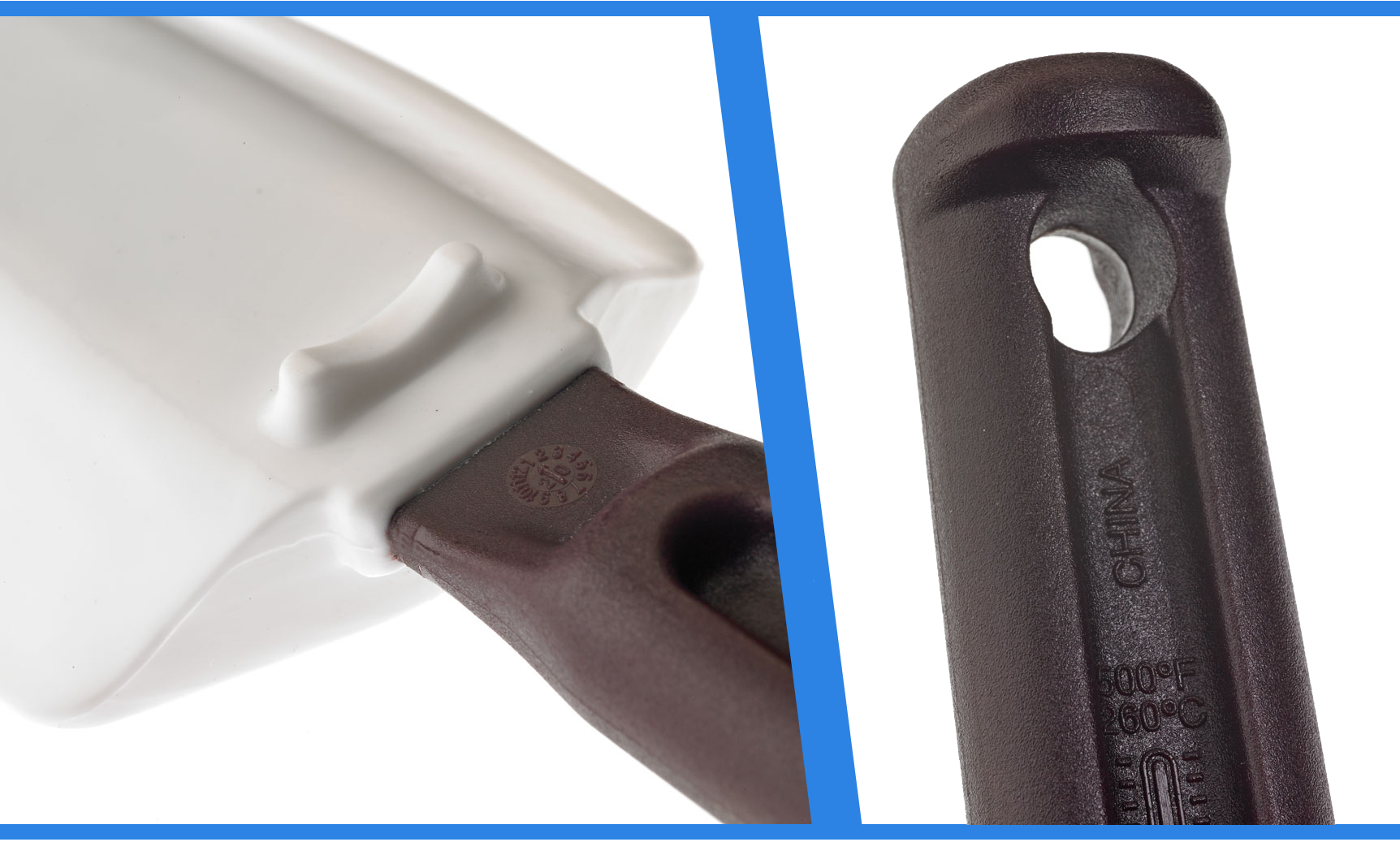 No problem. Mercer thought of that too. These silicone spoon spatulas are designed with a raised kickstand molded into the underside of the blade, keeping it off the work surface. An integral hook on the handle prevents the scraper from sliding into bowls, pots, and pans.
Hell's Tools® 10" Silicone Blade Spatula 
The silicone blade spatula is perfect for scraping batter, making omelets, stir fry, and more. It has all of the unique and essential features of the silicone spoon spatula, including the stain and odor resistant blade, raised kickstand to keep the blade off of the work surface, ergonomic and heat-resistant nylon handle, and heat resistant blade rating to 500°F. In addition to all of the features mentioned that make life easier for operators, they have a notched blade so they can easily rest on the pan or bowl surface without slipping into the ingredients.
SMALLwares can have a BIG impact on foodservice professionals and their operations.  Mercer designed these kitchen tools with the needs and desires of operators in mind.