by Carla Landi
The Matfer Bourgeat Black Carbon Steel Fry Pan is made to exceed your high standards for durability, longevity, and performance. Black carbon steel is a natural mineral material free of any harsh chemicals or coatings and brings top-notch heat distribution for the perfect sear, preserving the vitamins and nutrients in your foods.  They are naturally nonstick once seasoned.

Restaurateur, Top Chef judge, and black steel aficionado Chef Naomi Pomeroy has been using black steel pans for her entire career, valuing them for their natural nonstick properties, perfect hard sears, and near indestructibility. Matfer Bourgeat visited Chef Naomi at Ripe Cooperative, a boutique café and maker's market in the space formerly occupied by her highly awarded restaurant Beast. Chef Naomi shared her top tips for seasoning, maintaining, and maximizing the performance of this classic piece of French cookware. Watch the video below to find out what we learned. 
A few reasons why Matfer Black Carbon Steel Fry Pans receive top marks from Food and Wine, America's Test Kitchen, and Chefs everywhere...
Made of a single pressed piece of high carbon steel, Matfer Black Carbon Steel Fry Pans are designed to excel for years in high-intensity kitchen environments. Lighter and more versatile than cast iron, Black Carbon Steel Fry Pans retain heat for beautiful sears. The ergonomically angled handles are welded directly to the pan, with no rivets to catch food, grease, or bacteria. Once properly seasoned, Black Carbon Steel Fry Pans retain a naturally nonstick surface for years, replacing short-lived PTFE-based nonstick coated fry pans. They are also available in Crepe Pan and Paella Pan shapes. In addition, each piece of Matfer Bourgeat Black Carbon Steel cookware is covered in the USA with a limited lifetime warranty.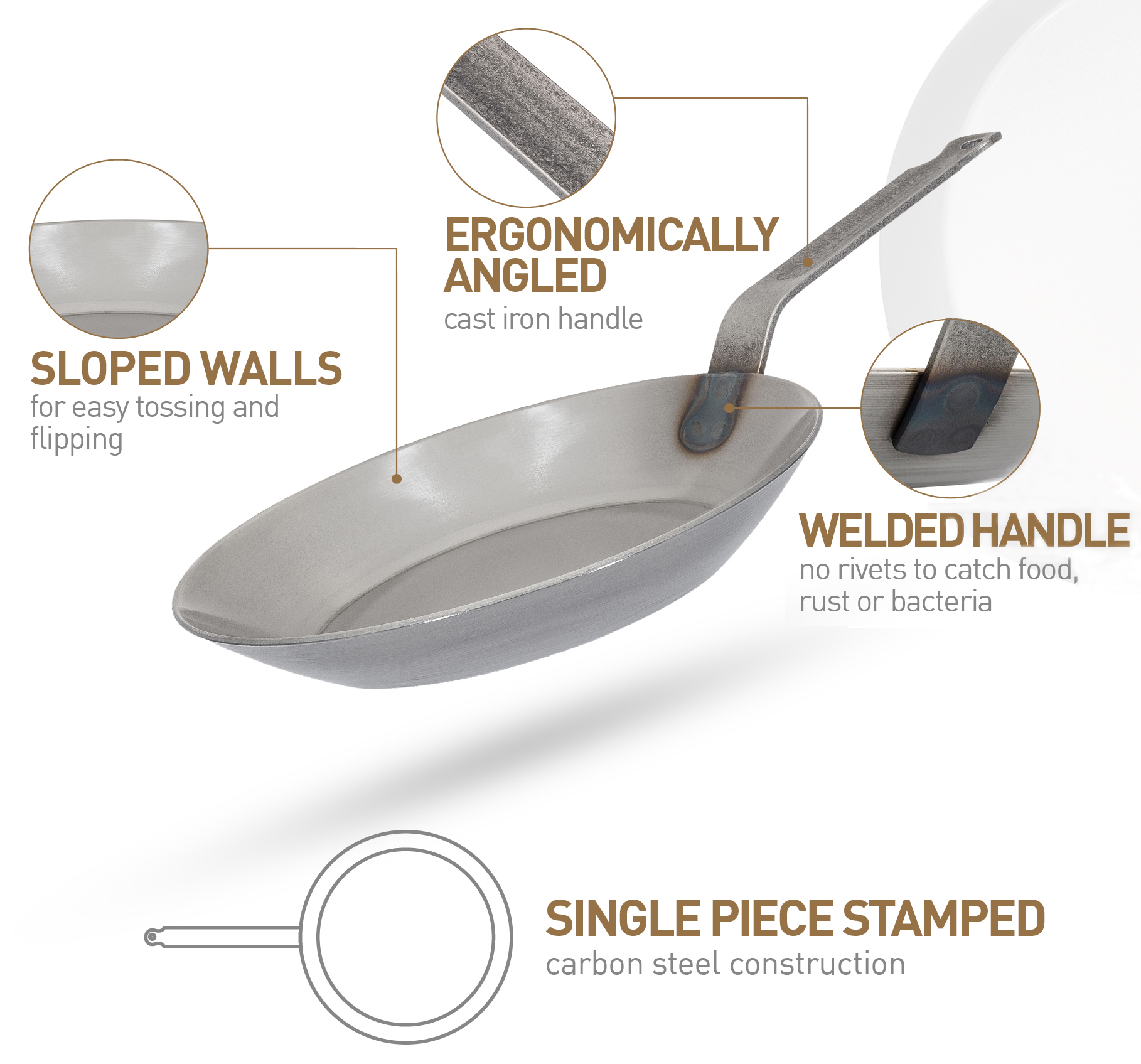 Treat yourself to Matfer's Black Carbon Steel cookware and find out for yourself why it's a  favorite among chefs for its perfect sears, naturally nonstick surface, durable design, and more. Check out the Mater Bourgeat Complete Product Line.
Information provided by Christian Letourneau, Matfer Bourgeat