by Carla Landi



Manitowoc's most recent head-turner, the CrystalCraft Premier™, is a game-changer for mixologists, bartenders, food and beverage operations, and consumers looking for their favorite, professionally prepared crafted cocktails.
Professional mixologists and bartenders have the unique talent and knowledge for creating the perfect cocktail. They also know the direct impact that the ice can have on the cocktails they create and serve.
That's why Manitowoc's CrystalCraft Premier Undercounter ice machine, model USE0050A, is getting a lot of attention. They make the ultimate cubes easily accessible to bartenders and mixologists so that they can do what they do best.  It was recently recognized as a 2021 Kitchen Innovation winner by the National Restaurant Association.
With the reimagined evaporator design and onboard filtration system, this ice machine produces large 40 gm, crystal clear square cubes and puts them within reach of bartenders in a compact, sleek cabinet design.
Customers who enjoy sipping rum will appreciate the enhanced the flavor provided by eye-catching, slow melting ice cubes. Not only is CrystalCraft Premier the perfect partner for the finest spirits, with its streamlined touchpad display and reliability backed by Manitowoc's 3-year commercial parts and labor warranty, it will be your bartender's perfect partner as well!
Let's take a closer look at the video below.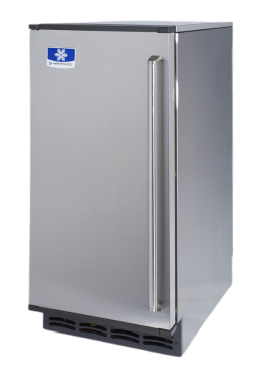 It produces up to 45 lbs. (20 kgs) of ice in 24 hours with a storage capacity of 25 lbs., and can be installed into standard cabinet dimensions of 15". If you prefer it as a stand-alone unit, no problem. The stainless steel top and sides allow it to function nicely as a stand-alone unit.
The easily accessible control panel includes...
Automatic ice-making mode
Patented cleaning and sanitizing
Delay start option
Filter replacement warning light
The USE0050A, CrystalCraft Premier, has it all. Bartenders and mixologists will welcome this gourmet ice machine to their cockpit and customers will love the consistent quality of their favorite crafted cocktails.