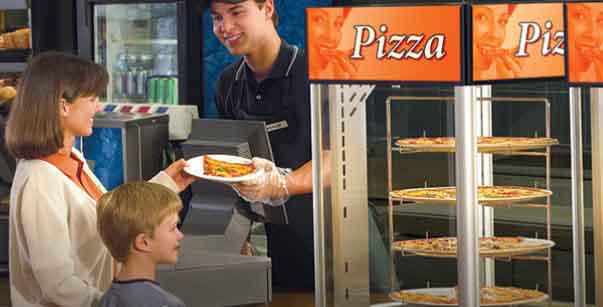 Concession stands, just the thought of them makes everyone excited to get back to their favorite events. Hatco has thought of everything to help you create and profit from a successful concession operation.
Fast, fun, and delicious!  That's the first impression that drives the crowd to your line. Hatco concession equipment is designed to attract everyone that passes by. As customers follow the magnificent aroma of culinary treats around the corner, they anticipate what they will see. The bright displays, attractive colors, and highly visible food options are exactly what they were hoping for and picturing. With senses elevated, excited customers quickly get in line for your offering of tasty concessions. 
Hatco concession stand equipment comes in a variety of eye-catching colors and styles that elevate the look of your operation and make your culinary concessions stand out. They offer 360-degree glass merchandisers, brighter display lights, upscale finishes, and more.
Now that you have everyone's attention, soft drinks are flowing, orders are flying in, and the doors to your holding equipment are opening and closing by the second. How do you keep the food hot and tasty? 
Hatco tackles heat loss head-on with quick heat recovery. From airflow patterns and rates to powerful heating elements along with self-regulating temperature controls, the engineers pulled out all the stops to ensure Hatco cabinets, cases, drawers, chip warmers, and more concession stand supplies stay at optimal temperatures in the most demanding environments.

How do you make sure you will have enough to go around? 
This might seem like a good problem, but it's not. There's nothing worse than running out of a favorite concession item or making hungry event-goers wait while you reload or heat their order. Hatco thought of this too. They offer a variety of solutions, including large-capacity concession equipment that allows you to prep more menu items in advance and scale to meet the demands of any size occasion, venue, or crowd. You may want to consider adding Hatco drawer warmers to your concession. The unique design and individual thermostatic controls for each drawer provide the flexibility to hold a diverse range of menu items at different temperatures and humidity levels. Determine what your large capacity means and check out the options. Hatco offers a variety of large chip warmers, different widths of strip heaters, induction warmers that string together up to five burners, and more. There's something big for everyone. 
Happy customers, happy operators! But, there are even more features operators love about Hatco concession equipment…
Product accessibility in a fast-paced, tight workspace. Hatco's well-designed concession stand equipment puts accessibility first. Whether reaching in or over, easy to grab is key. 
Versatility and multi-purpose equipment solutions. Hatco is known for staying on top of food trends and operator needs. You will be sure to find equipment that does your culinary creations justice with opportunities to engage in the latest concession food trends. The equipment can be used for a variety of menu applications allowing you to switch it up for your customers.
Durability and reliability operators can depend on. When it's go-time, you need to know that you can depend on your concession equipment to perform in the most repetitive and demanding environment. You can rest easy knowing that Hatco equipment is engineered for the long term and is tested to meet incredibly rigid performance standards. They guarantee it.
With Hatco concession stand equipment and supplies, there's something for everyone and every venue. They offer a variety of merchandising, cooking, and holding solutions that are sure to give you the experience you and your customers crave. It's time to bring the crowds back and have some fun!