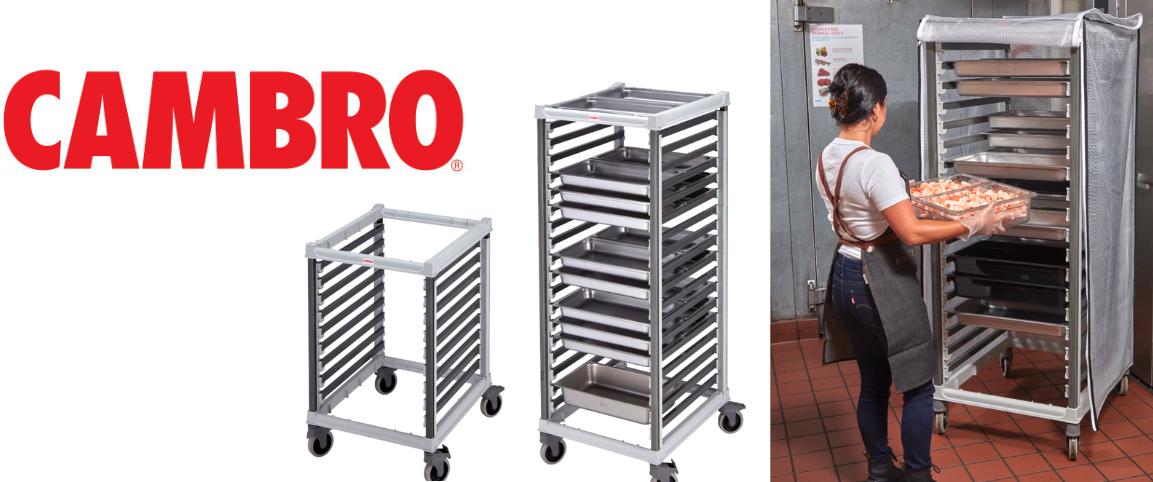 Most foodservice operations use a sheet pan rack to hold food pans—but Cambro created a better way. With operators in mind, Cambro designed the GN Food Pan Trolley. So instead of putting a food pan on top of a sheet pan into a sheet pan rack, slide your food pan onto the Food Pan Trolley and get to the next task.
At Newport Beach's renowned The Resort at Pelican Hill, Chef Kyung Soo Carroll, Director of Culinary Operations, needs their kitchen to be as efficient as possible to serve two golf courses, several pools, multiple restaurants, bungalows, and villas. When Carroll implemented the Cambro Food Pan Trolley, he noticed an impact in three areas of his operation.

Number One: Labor

"For our speed racks, you need two things: a sheet pan and a hotel pan. The Cambro Food Pan Trolleys make it so much easier to go straight into our hotel pan and onto a cart. That saves us on labor because we don't have to wash it all the time," said Carroll.

Number Two: Storage

Even with Pelican Hill's large storage rooms, they still struggle with having enough room for their food and equipment.

"Footprint is such a big part of what we do. Everybody has limited cooler space; everybody has limited space as a whole throughout the back of the house. The width of the Cambro Food Pan Trolley is just a little above what the hotel pan is, and that saves us incredible space. If you look at a regular walk-in cooler and you had to line it up with seven or eight speed racks, you'd see how much space it takes up. I could probably get 10 or 12 of the Cambro Food Pan Trolleys in there and have it fit," said Carroll.

Number Three: Safety

If you've ever stored food pans on top of sheet pans, you know they aren't exactly stable. One bump can cause all your food pans to slide off when moving your racks through doorways and elevators.

"The Cambro Food Pan Trolley fits perfectly to the width of the hotel pans. So, we don't need to worry about it from that point. If it's something liquid, we'll just find a lid and put a lid over it. It transports beautifully for us," said Carroll.

Taking it the extra mile, Cambro added a pan stop to the back of the Cambro Food Pan Trolley to further increase safety.

"The pan stop on these carts is actually a big benefit. It's one of those things you would never notice until you needed it," said Carroll.

In short, speed racks are designed for sheet pans. The Cambro Food Pan Trolley is built for food pans. Save time and space by finally putting your food pans where they belong.