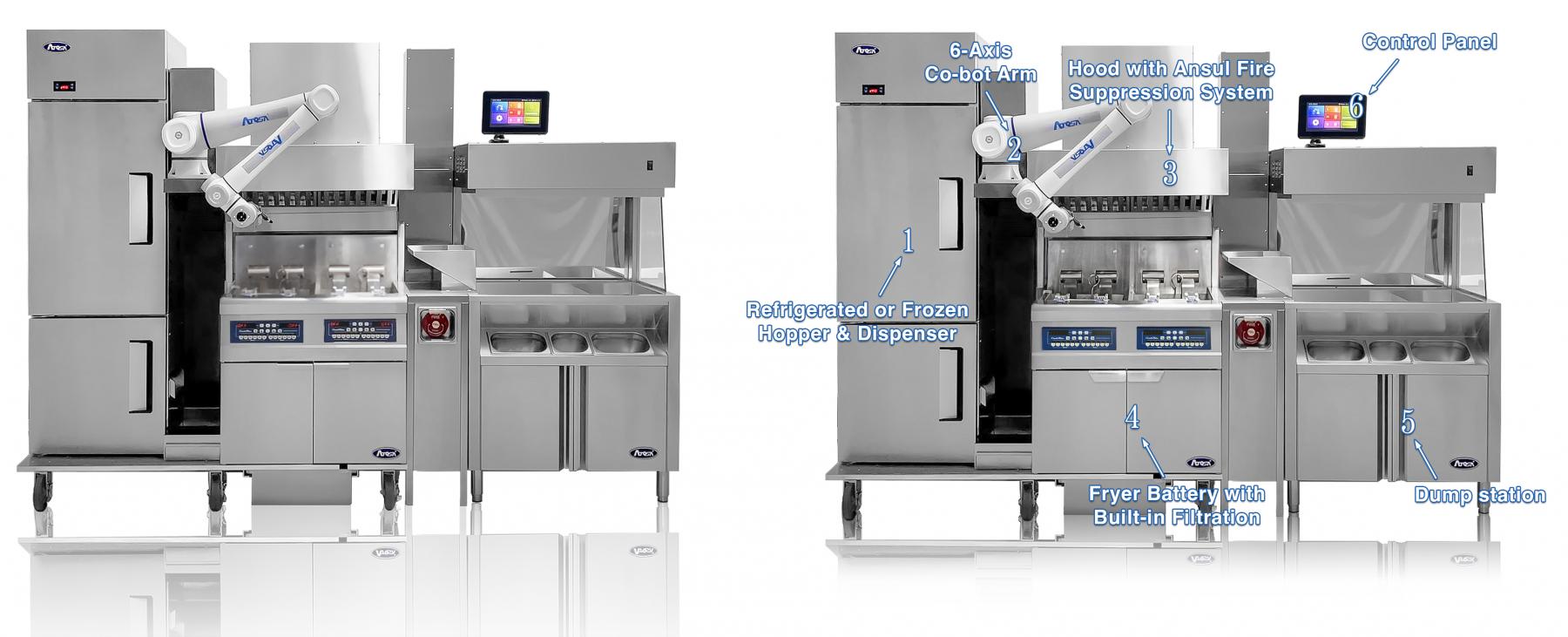 Atosa's Intelligent French Fry Robotic Solution is a six-axis collaborative "co-bot" robot solution that provides system adaptability during peak and non-peak times and allows the system to operate entirely manually when needed.
The Atosa Intelligent French Fry Robotic Solution comes to play as a total solution or a combination with existing equipment, connecting with POS systems. The complete solution, including the freezer/hopper, fryer battery with built-in filtration, ventless hood with ansul fire suppression and dump station, has a footprint of 9'3" and the robotic arm has a reach range of over 51". Foodservice professionals that put the complete solution in their operation can see a return on investment that averages six to nine months.

Atosa has been paying close attention to the pain points of foodservice operators today with labor challenges and the need for efficiency. As a result, they responded with the Intelligent French Fry Robotic Solution, which is catching the eye of professionals in the industry, including the National Restaurant Association. The Atosa Intelligent French Fry Robotic Solution is a 2023 recipient of the Kitchen Innovations Award. The National Restaurant Association Show's annual Kitchen Innovations (KI) Awards program celebrates back-of-house innovations that improve operations and generates growth through automation, sustainability, efficiency, and more. So, if you are attending the 2023 National Restaurant Association Show in Chicago on May 20 through May 23, you should be sure to stop by their booth and check it out.

The Atosa Intelligent French Fry Robotic Solution is for single-product dispensing. Atosa's next-generation solution will include multiple product dispensing and auto packing. Keep an eye on these guys!

Leading foodservice equipment and supply manufacturers are working hard to provide solutions and opportunities for foodservice professionals today. Atosa is one to watch.