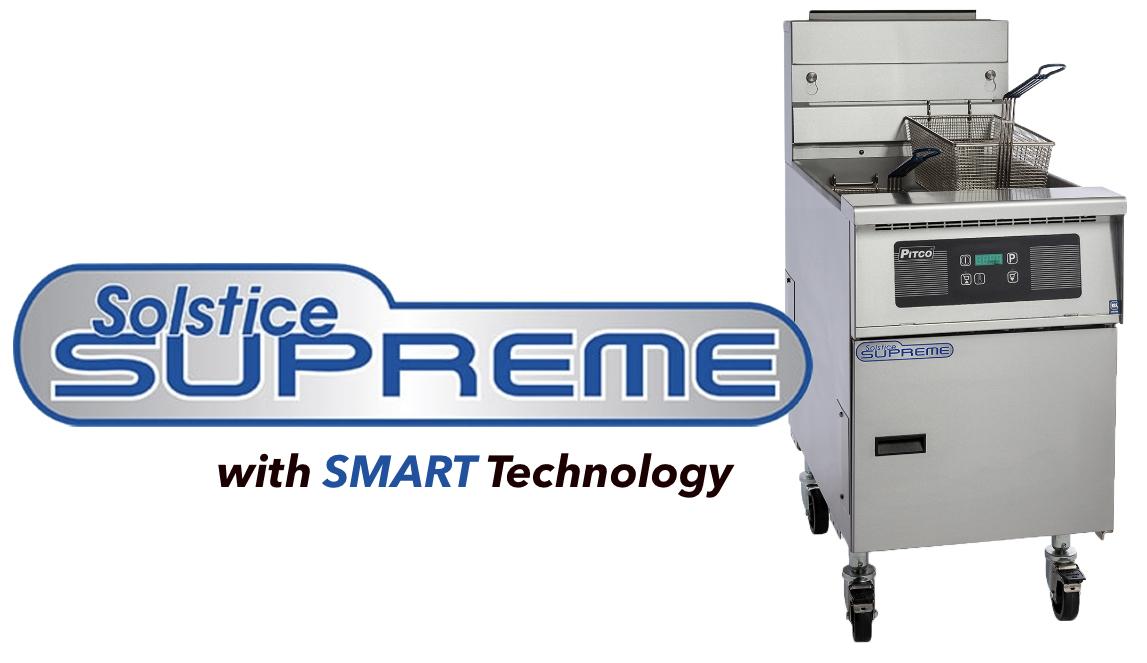 What if you could put a Smart fryer in your foodservice operation that could handle the labor-intensive and safety hazard tasks of frying? What if you could reduce labor while delivering delicious and consistent results? Well, you can!
Pitco understands that the fryer for many restaurants is essential in cooking a wide variety of favorites for diners, including French fries, mozzarella sticks, fried chicken, and more. However, working with a fryer can be labor-intensive and present safety hazards for operators while draining, filtering, refilling the oil, and more.
You can now rely on Pitco Solstice Fryers to automate and carry out those tasks. Smart technology is being added to all current gas and electric Solstice Supreme Fryers models. The mission is to reduce operating costs, save on labor, prolong oil life, increase safety for operators directly handling fresh/waste oil, and maintain oil quality. These fryers with the new Smart Technology also produce better tasing food for your customers and maintain consistency of flavor and quality throughout the life of the oil.
The features and benefits you receive with Pitco Solstice Fryers with Smart Technology include the following.
Automatic Filtration
Dirty fryer oil is challenging, especially when deep-frying customer favorites like chicken or fish. As breading and food particles drop into the oil, they can burn and create an unpleasant flavor. Also, with everything going on in the kitchen and in many cases where staff may be limited, there's not always time to drain and filter the oil to ensure high-quality results. Oil filtration is a built-in feature of the Solstice Fryer, all without human interaction. The machine automatically filters out particles and crumbs to ensure consistency and flavor quality. There is no need to open anything or mess around with knobs or levers. Once the oil is ready for collection, the fryer automatically dumps it into a container so an employee can pour in a fresh batch.
Automatic Oil Top Off
The best way to ensure the fryer always has the right amount of oil is to use the automatic oil top-off feature. This fryer can automatically add oil as needed throughout the day, which means less labor, fewer errors, less guesswork, less stress, and consistent quality throughout the day.
SOS: Smart Oil Sensor
Another significant challenge restaurants face is that it's hard to tell when fryer oil is going bad. Since it's not economical to use fresh oil with each batch, restaurants risk either disposing oil too soon or serving food fried in oil that leaves an unpleasant taste. The Smart Oil Sensor (SOS) on the Pitco Solstice Supreme is the most innovative sensor on the market, and it can notify operators when it's time to change the oil. In addition, automatic, accurate oil quality measurements are displayed, and the data is stored. This notification system, paired with the other Smart features, ensures that restaurants can maximize every drop of oil they use. And, as we know, less oil usage = less oil expense. And, let's not forget the damage that can be done by serving a meal to your customers that is not consistent with your reputation and talent.
The Pitco Solstice Supreme is a SMART solution for every operation. Check out Pitco for more solutions.