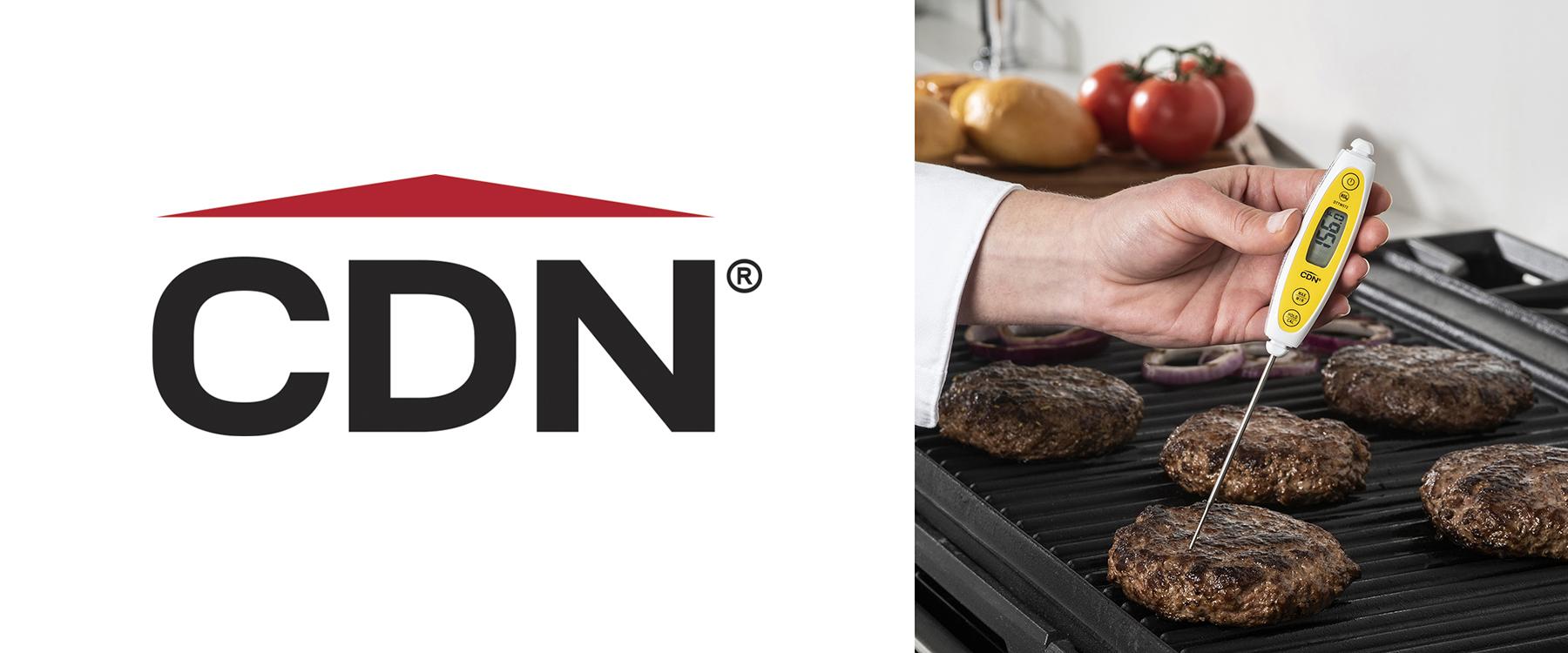 All kitchen thermometers support food safety, but some make it easier to achieve than others. September is National Food Safety Education Month, the perfect time to take a closer look at the tools you have in your operation to ensure food safety for your guests.
Attention to detail is a small investment that makes a big difference in achieving high food safety standards, including the right type of thermometer for the task and working with a vendor known for quality, product innovation, and superior customer service.
CDN stands out as a global category leader with the personal attention and commitment of a business that has been family owned for over 35 years. They offer a broad assortment of thermometers, timers, and scales, with good/better/best options in every category. In addition, the majority of CDN products are tooled and exclusive.
Read on to learn tips on some of the most critical attributes for professional cooking thermometers: easy recalibration, accuracy, submersibility, and antimicrobial protection.
Easy Recalibration
The easier it is to recalibrate a thermometer, the more often it is done. Unfortunately, this is a fact of life in busy commercial kitchens. Frequent recalibration increases accuracy and extends the useful life of the product. That's why CDN offers many thermometers that stand out for easy recalibration.
Check out the recalibration video below.
Accuracy
Accuracy is critical, and speed is part of it – the best thermometers deliver accurate readings fast. CDN thermometers meet or exceed industry standards. The CDN Waterproof Thin Tip Thermometer (DTTW572) features a 4-second response and measures between -40° to +392° F (-40° to + 200° C), plus or minus 0.7° F (0.4° C).
Submersibility
CDN offers a wide assortment of waterproof and submersible measurement tools for achieving the highest standards in commercial kitchens – from efficiency to precision performance. For example, the CDN Waterproof Thin Tip Thermometer (DTTW572) has an IPX7 waterproof rating, which means that it is protected from water up to 3 feet (1 meter) for up to 30 minutes.
Antimicrobial Protection
CDN offers a range of food thermometers treated with BioCote antimicrobial technology, the only technology of its kind that is HACCP approved. BioCote is added to the thermometer during the manufacturing process.
Keep your customers safe and your reputation solid. Visit CDN Measurement Tools for more information.