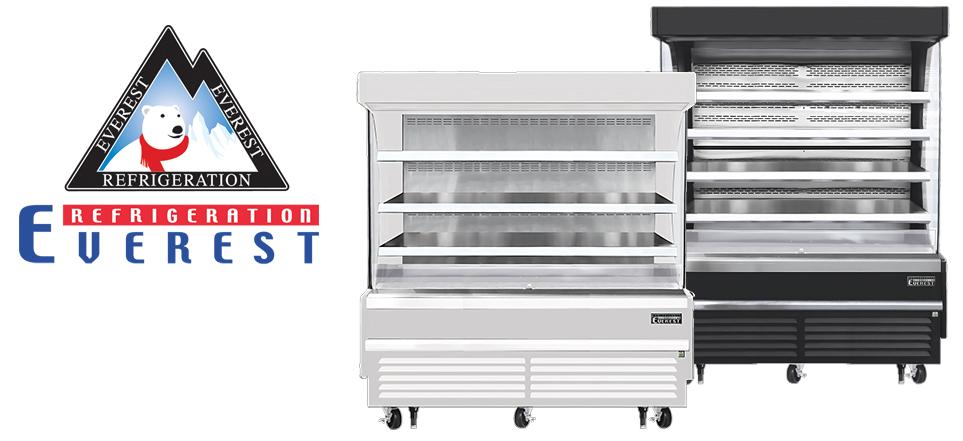 They are known for perfect cooling without doors! Everest's impressive Open Air Merchandisers conform to NSF 7 Type II and are built to withstand a warmer maximum ambient temperature of 80°F, which is higher than most comparable brands. The open, no-door format is made possible by advanced Cold Air Technology that deflects hot ambient air from the shelf area while trapping cold air inside, maintaining cold, safe temperatures.
Everest merchandisers feature a built-in, retractable clear acetate night curtain that pulls down and latches as a standard feature to provide extra security and improved energy efficiency when the unit is not in active use.
Choose and set up the perfect merchandiser to boost your grab-and-go impulse sales.
Everest merchandisers are available in vertical and horizontal styles and various sizes to match any space. Cabinets feature a black or white modern exterior with moisture-resistant panels and field-replaceable tempered glass. The heavy-duty stainless-steel interior has a perforated back wall for efficient airflow and includes floor drains for easy cleaning. The front stainless steel bumper belt protects the cabinet from external damage. So, get ready to start merchandising! The stainless-steel shelves adjust by height and tilt at an angle for improved merchandise visibility. Shelves include integrated price tag moldings to keep price tag inserts neat and organized and ledges that hold all items in place. Shielded LED bar lighting with on/off switch is positioned under shelves and canopy to provide bright, high-color illumination at lower heat output.
Everest merchandisers feature the Blizzard R290 system, a fully self-contained and detachable condensing unit that uses natural, environmentally friendly, EPA-compliant R290 refrigerant with zero (0) Ozone Depletion Potential (ODP) and three (3) Global Warming Potential (GWP). The Blizzard R290 Slide-Out Cooling Cartridge for easy replacement couldn't be easier. Just slide the old cartridge out and easily slide in the new cartridge. Benefits of the slide-out compressor include quick 30-minute replacement if needed, shorter downtime, no brazing needed, and no fire risk. Front air intake and rear air discharge design allow operators to position units side by side. In addition, the self-maintaining, energy-efficient condensate drain pan requires no external drains or electric heaters.
Everest had foodservice professionals in mind when building these Open Air Merchandisers—designed for strength, superior temperature control, efficiency, and ultimate attention-getting impulse sale boosting. Visit Everest Refrigeration for more information.