It's a good idea to focus on the safety and comfort of employees in foodservice operations today, as many restaurants battle with the challenges of recruiting and retaining employees. Cactus Mat provides solutions to combat safety and comfort challenges in kitchens and restaurant operations.
Slips and falls are one of the top injuries in busy foodservice kitchens. Unfortunately, injuries can also result from standing on a hard floor all day. The Occupational Safety and Health Association (OSHA) requires anti-fatigue mats to be provided in commercial kitchens to relieve the strain on backs, hips, legs, and feet that results from standing for extended periods. Cactus Mat's VIP Prima 3x3 Connector Mats are a great solution and send the message that you care about your team's safety and comfort by putting the best in quality mats under their feet.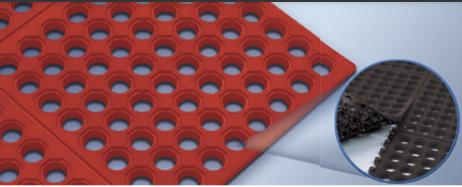 VIP PRIMA 3x3 CONNECTOR MATS feature half-inch thick rubber cushion, excellent drainage capabilities, and are light weight for easy handling. The "built-in" connectors on one end are designed to connect to other Prima Mats easily and can be interconnected to create 90-degree turns.
Did you know Cactus Mat also provides hot water rubber hoses and twist-type brass nozzles?
Cactus Mat offers TEMPRA-FLEX HOT WATER HOSES. These red rubber hoses are 50 feet long and have a 200°F hot water rating. You can choose from a regular duty with a 5/8" inside diameter, a heavy-duty with a ¾" inside diameter, and a standard duty with a ¾" inside diameter and is twenty-five feet long.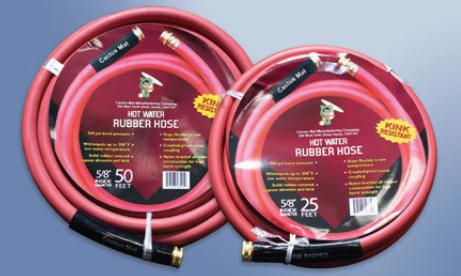 .
Pair your hose with Cactus Mat's TWIST-TYPE BRASS NOZZLE, and you're all set. This precision-machined nozzle boasts solid rustproof, heavy brass for rugged performance, delivers a fine mist to full stream, and includes a positive shut-off feature.

Cactus Mat was one of the first to jump on quick solutions when COVID hit by introducing their 'keep your distance' mats. They continue to offer solutions to foodservice operations daily. Visit www.cactusmat.com for more information.