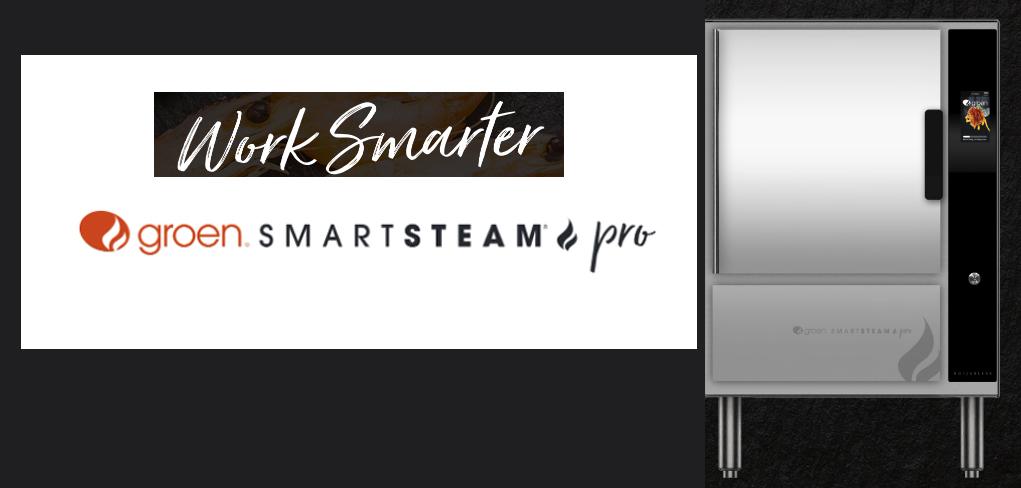 In the fast-paced world of commercial kitchens, efficiency and quality are paramount. As the demand for healthier and faster food options rises, many chefs and restaurant owners turn to the power of steam cooking. In this blog post, we'll explore the pros and cons of using a steamer in your commercial kitchen, shedding light on the remarkable benefits it brings to the table. As we delve into this topic, we will showcase the exceptional features of the Groen SmartSteam® Pro Boilerless, a revolutionary steamer designed to elevate your culinary experience to new heights.
Pros of Using a Steamer in Your Commercial Kitchen
Unparalleled Cooking Efficiency
One of the most significant advantages of steam cooking is its remarkable speed. Compared to traditional cooking methods, steamers offer lightning-fast cook times, ensuring your dishes are ready in record time. The Groen SmartSteam Pro Boilerless takes efficiency to a new level, boasting a heating time of approximately 15 minutes from a cold start. Imagine perfectly cooked rice in just 20 minutes, steamed broccoli in 6-8 minutes, or succulent shrimp in a mere 6 minutes. With the SmartSteam Pro Boilerless, you'll have the power to keep up with the busiest kitchen rushes.
Healthier Culinary Delights
Health-conscious diners will appreciate the numerous benefits of steam cooking. By utilizing steam, this cooking method preserves more nutrients and flavors than traditional techniques that rely on excessive oils or fats. With the Groen SmartSteam Pro Boilerless, your dishes will shine with vibrant colors, enticing aromas, and unparalleled flavors. Say goodbye to dull, overcooked meals and hello to healthier, more delightful culinary creations.
Enhanced Cooking Precision
Consistency is critical in the culinary world, and steamers excel at delivering perfectly cooked food every time. The SmartSteam Pro Boilerless is equipped with a cutting-edge convection fan placement that ensures even cooking throughout your dishes. No more worrying about unevenly cooked meals—repositioning and reheating become a thing of the past. With real-time cooking status updates, pan timers, and a dedicated hold feature, the SmartSteam Pro Boilerless empowers you to create exceptional dishes with precision and ease.
Cons of Using a Steamer in Your Commercial Kitchen
Maintenance Challenges
Steamers, like any other equipment, require proper maintenance to operate smoothly. Mineral buildup and clogged parts can lead to breakdowns if not addressed promptly. However, the Groen SmartSteam Pro Boilerless takes the hassle out of maintenance. With its enhanced intelligence, real-time performance monitoring, and error diagnostics, operators will see increased servicing efficiency and minimal downtime. Stay in control and keep your kitchen operations running smoothly, even during critical moments.
Water Consumption
Steamers indeed consume water, and this can impact your water bills. However, the Groen SmartSteam Pro Boilerless sets a new standard for water efficiency. Venting steam to the hood instead of the drain reduces water usage by up to 50% compared to conventional steamers. With this innovative solution, you can enjoy the benefits of steam cooking while keeping your water costs in check.
Installation Challenges
Installing a steamer in a commercial kitchen can be a time-consuming process that involves leveling, proper connection to water lines and floor drains, ensuring electricity supply, and thorough testing. However, Groen offers a free Start-Up program within 30 days of shipment to simplify the installation process. With this program, an Authorized Service Agent will inspect the steamer free of charge, and an additional year of extended warranty is provided.
The advantages of using a steamer in your commercial kitchen are undeniable. Steamers are transforming the culinary landscape from unmatched cooking efficiency and healthier dishes to enhanced precision. Among the top choices in the market, the Groen SmartSteam Pro Boilerless stands out as a game-changing solution that takes steam cooking to new heights. To experience the transformative power of the SmartSteam Pro Boilerless firsthand, contact your local SEFA Dealer today. Unlock your kitchen's full potential and delight your customers with culinary excellence.