As operators take on the operational challenges presented today, including the ability to find talent for the kitchen, they are looking for more efficient ways to run the kitchen.  More and more foodservice professionals, who once considered blast chillers and shock freezers to be more of a luxury item, are now finding them to be a necessity for their operations.



The PREPRITE by EVERIDGE Undercounter PBF 4.0 Blast Chiller and Shock Freezer is the first and only offered with eco-friendly R290 and is proving to be a fantastic solution. They fit perfectly into a professional kitchen workflow with a convenient 4 or 5 pan undercounter design. This compact unit has an output chilling capacity of 40 lbs. within 90 minutes from +160°F down to +38°F, and a freezing output of 20 lbs. within 240 minutes from +160° down to 0°F, making it the most efficient blast chiller with the largest capacity of chill/freeze within its footprint. Among the many benefits, the PBF 4.0 opens opportunities for effective cook-chill methods as well as flexibility solutions for your foodservice team.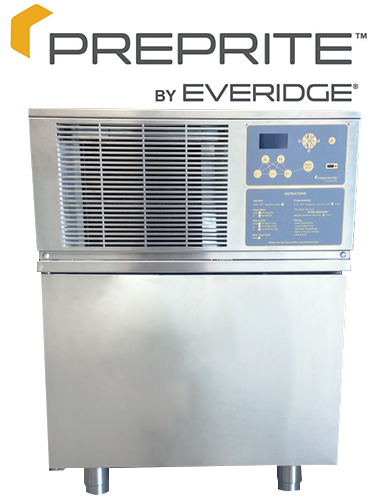 Cook-chill is one of the most effective ways to reduce product loss and maintain food quality and safety. Food prepared and chilled properly maintains taste, texture, appearance, and consistency. However, today's most appealing benefits are the labor savings from migrating from cook-serve to a more efficient system.
Chef Heather Tisdale from ThermalRite, PrepRite, and ICS by Everidge, offered these tips
for an effective sous vide cook-chill system...
Step 1: PREP
High-quality refrigerated prep tables are the best option for a good prep station.
Step 2: PACK
Ensure that when you select (vacuum) bags for your new cook-chill system, you verify that they are for commercial and restaurant use and approved for the temperatures you wish to cook the menu items. In this step, you can add marinades, herbs, or other elements to infuse into the food.
Step 3: SEAL
When selecting a vacuum sealer, it is essential to know what types of items you will be using in the sealer as well as the production volume. In-chamber vacuum sealers are the best choice for efficiency and food safety because the vacuum bag is completely contained.
Step 4: COOK
While you can certainly cook vacuum-sealed food in boiling water, you have much less control over the temperature and can easily overcook the food. It is much better to utilize sous vide technology for ventless cooking and precise temperatures every time. When selecting a sous vide circulator for your operation, ensure that you choose one approved for a restaurant. If you plan to sous vide in bulk or for larger proteins, look for a circulator suitable for high-volume. Typically the capacity is listed in liters or gallons. You will also need a food-grade vessel for your circulator and the water.
Step 5: CHILL
This is where your blast chiller comes into play. There are multiple methods for cooling foods, including the ever-popular ice bath. Ice baths do not provide control over the temperature and can lead to food spending time in the danger zone once the ice melts. It is best to utilize a blast chiller to cool the foods safely according to HACCP guidelines. Not only do blast chillers make cooling food more efficient, but they also enhance the quality. Blast chillers create micro-crystals instead of macro-crystals that form with slow cooling methods, so the food quality doesn't degrade. When selecting a blast chiller, it is important to identify what you will be blast chilling and the volume. Another consideration would be the type of refrigerant used to maintain an eco-friendly operation. Blast chillers are also great for applications like thawing, soft-chilling produce, sushi, gelato, ice cream, and even proofing.
Step 6: REHEAT/RETHERM FOR SERVICE
What is excellent about a sous vide circulator is that you can utilize it to initially cook the food to the perfect temperature, and you can also use it to reheat or retherm the product after it has been chilled. It is also recommended to quick-sear most proteins after being sous vide for optimal texture and exterior caramelization.
ThermalRite, ICS, and PrepRite by Everidge offer solutions and opportunities for greater kitchen efficiency, food safety, and bottom-line profits. www.everidge.com