Stocking the walk-in refrigerator with food for the anticipated large crowds of happy customers never felt as good as it feels today. Getting back to business in full swing is such a welcome journey after the year we all had.



Storing valuable food products at optimal temperatures with minimum risks of food waste is more important than ever. That's where American Panel Intelligent Controllers come into play, providing peace of mind for foodservice professionals.



American Panel's standard Intelligent Controller (IC) Controller/Monitor goes into action right away. It has adaptive programming that automatically detects the room type and sets optimal settings for the alarms and heater wires. It features a bright LED digital thermometer that is easy to read from across the room. A light switch with indicator and lighting time delay, perfect for applications without a window, will automatically turn off after a specified time. Audio and visual alarms for both high and low points can be set automatically with the adaptive programming or set manually on the controller. The IC controller also controls the braided aluminum heater wire, cycling it on and off as needed, monitoring and adjusting to save on energy, and extending the life of the wire. The IC controller comes standard on all American Panel walk-ins.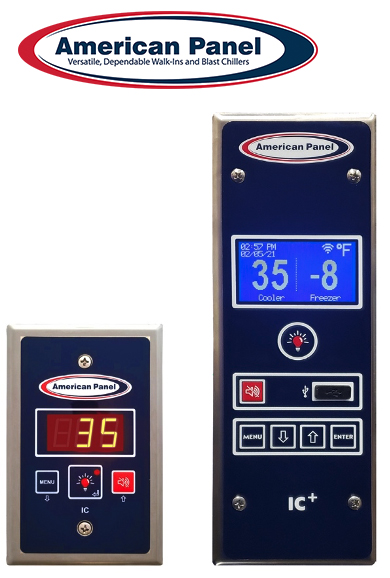 Check out the video on the standard IC Controller/Monitor:
American Panel's Intelligent Controller Plus (IC+) is the advanced version of the popular IC Controller/Monitor. Like the standard IC controller, the IC+ is exclusive to American Panel and can only be found on American Panel walk-ins. Like the IC,  the IC+ has adaptive programming which allows it to automatically recognize the walk-in type, refrigerator, freezer, or beer cooler. It will set the temperature ranges for all the items it controls, including heater wires, alarms, and notification ranges based on this walk-in type. The IC+ features advanced notifications that allow for alarm and HACCP data to be sent via email or text over local wifi.  The IC+ Setup App, available for Apple or Android phones, allows for an easy way to access and edit the advanced notification settings for the IC+ on your phone or tablet. Operators can set up or edit: Wi-Fi connections, email notifications, download HACCP data or change alarm notification settings.



Check out the video on the Advanced IC+ Controller/Monitor:
Compare the IC and the IC+ in the chart below: